Instructors 2019
Our instructors ignite a desire to learn more about the natural world. We are fortunate to have their unique expertise enriching our programs and specialty camps. 
Name: Corey
Hometown: Burlington, Ontario
Summers at Cadicasu: 1
Camp: Apisi (Week 5) & Onawa
As the founder of Paleo Play Canmore and the co-founder of Nature's Tracks Forest Play, Corey has led nature focused children's programs for over 10 years. He specializes in play based experiences and bushcraft skills using as many natural materials as possible from our local environment to deepen our relationship with the natural world.
Name: Dan
Hometown: Preston, England
Summers at Cadicasu: 1
Camp: Apisi (Week 2)
Dan has been working in outdoor education for 15 years in the UK, France, and USA. He is a past Education Manager for Lancashire Wildlife Trust and is the current Manager of Outdoor Education Programs at Newground CIC in the UK where he delivers bushcraft projects and holds a Bushcraft Certificate from the Institute for Outdoor Learning.
Name: Dan
Hometown: Calgary, Alberta
Summers at Cadicasu: 18
Camp: Apisi (Weeks 3 & 6)
Dan grew up loving the outdoors and mystery of the wilderness. Camp Cadicasu has been a part of his family for 30 years. Dan is an integral part of our Leadership Team. As a graduate from Mount Royal University with a degree in Ecotourism and Outdoor Leadership, he has in-depth knowledge of outdoor leadership and wilderness skills.
Name: Rachel
Hometown: Windsor, Ontario
Summers at Cadicasu: First Time!
Camp: Namaste
Rachel is a full-time Registered Yoga Instructor in Calgary recognized with the Canadian Yoga Alliance as E-RYT 200 & RYT 500. She teaches at several locations in the city in addition to the Calgary Police Services. Rachel is known for her sense of humor, dynamic sequencing, alignment focus, and her lively nature. She brings joy to everyone!
Name: Shaun
Hometown: San Diego, California
Summers at Cadicasu: 3
Camp: Samurai
Shaun has a Bachelor of Science and a Masters of Teaching from Virginia Commonwealth University, as well as a Doctorate Degree in Naturopathic Medicine from Bastyr University. He has been studying primitive skills and martial arts for over 20 years with a focus on nature-connection and is fascinated with ancient cultures.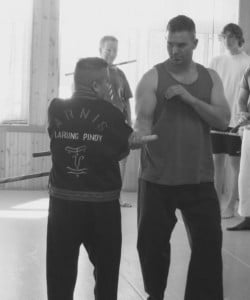 Name: Stefan
Hometown: Kitchener, Ontario
Summers at Cadicasu: 2
Camp: Samurai
Stefan is a high school teacher during the year. He has lived and trained Aikido in Japan, as well as traveled throughout Europe and North America as a student, then later as an instructor. Stefan is a 5th degree black belt in Iwama-Ryu Aikido and he is also a World Eskrima Kali Arnis Federation (WECAF) multi-time world champion stick fighter.
Name: Tracy
Hometown: Saskatoon, Saskatchewan
Summers at Cadicasu: 2
Camp: Onawa
Coming Soon …